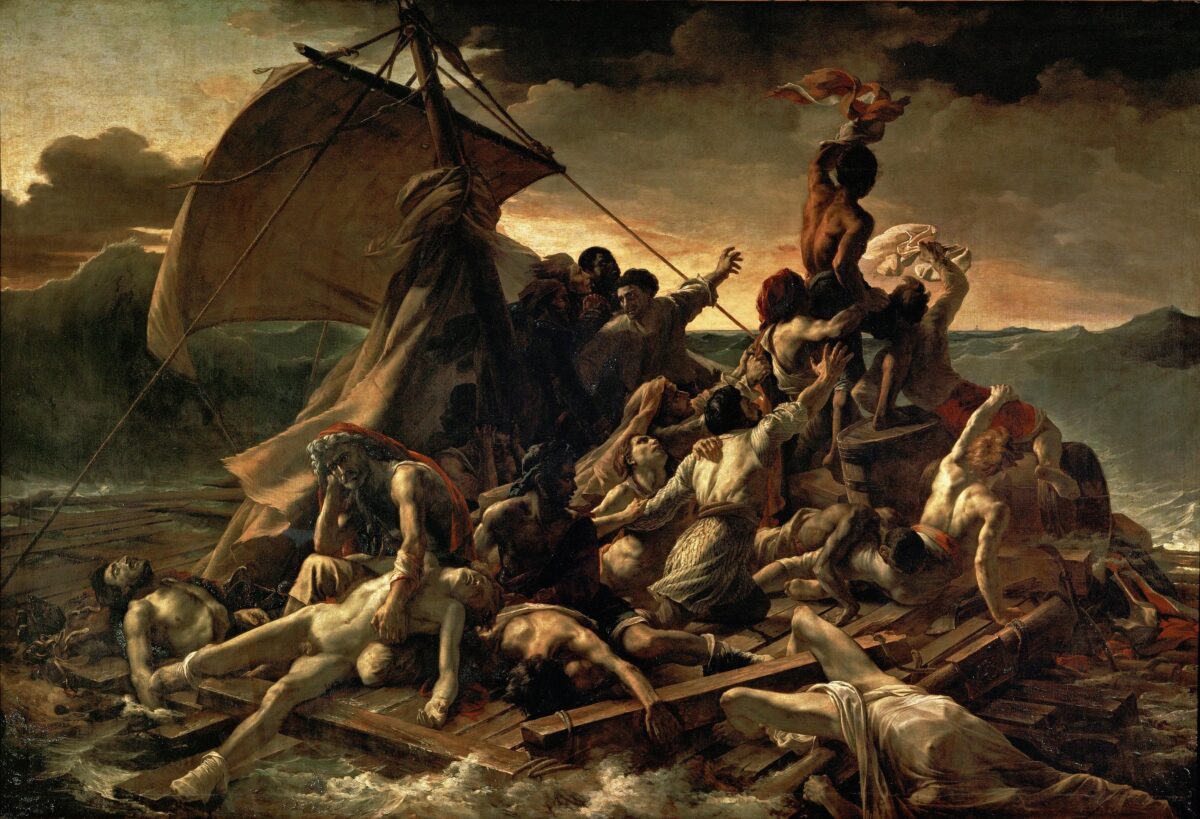 I first encountered "The Raft of Medusa" (1818-1819) by Théodore Géricualt this past summer through Eric Bess's article "Hope for the Impossible" from the June 8th edition of The Epoch Times (I strongly recommend the article!). I've revisited the painting repeatedly over the past five months, continually meditating on the faces and figures strewn about the raft, imagining myself, and all of humanity, riding the storm-tossed sea of these days. Once again, my eyes are drawn to the raft.

There's an allegory here, if you will. In one lifetime, we probably find ourselves (at one time or another) in the place of each of the figures on this raft as we come face-to-face with life's difficulties. As human beings in turbulent times, we too find ourselves spread about the boards beneath the ominous sky and churning waves. Some of us have given up hope, others are paralyzed in fear, still others are resigned to whatever fate awaits, our eyes turned away from any source of rescue. Yet there's something coming on the horizon, barely visible to the seeing eye just to the right of those hopeful souls waving their banners high.

Rather than fix your eyes on the waves, the sky, the raft itself, or those crumbling under the oppressive weight of fear and doubt, fix your eyes on the horizon. Don't just let the winds blow you about, driving you away from hope. It's far more difficult, but you cannot live looking to your own strength in such situations. You cannot draw strength from the others struggling around you. You can't even trust in your own raft. You must look to the horizon. Turn your eyes to the East. And then, like the sunrise, when you see those distant sails approaching, though they appear as a mirage in your sight, you'll have the strength to lift others, turning them toward hope.

We all need to see more clearly and have our provisional blindness healed. May we all see like Elisha in 2 Kings 6:16-17 the superior reality of God, the true source of hope!
Rising Above the Wreck
Vincent H. Anastasi 2020
Inspired by "The Raft of Medusa" by Théodore Géricualt

Refuse to wrestle on your own
enshrouded in despair's stark shade,
paralyzed while others sink
beneath the churning ocean waves;

nor sit resigned to death's dark fate,
from hope's horizon turned away,
listless in the raging storm,
contented to embrace dismay.

Revel not in black-mold skies
choking out each mortal life
sprawled about the dismal wreck
to drown without auspicious sight.

Arise above this tattered bark
and lift each brother by the hand
and ever wave your banner high
'till seeing eyes descry your band;

horizon-bound with dogged hope,
forever may you fix your gaze,
knowing sure the longed for boat
will rescue those who lift His praise!